TERROIR
Nunes Vineyard occupies the last of an alluvial bench at the foothills, just east of Hwy 101 at Shiloh Road. The sun usually breaks first over this vineyard leaving it ringed by fog and creating a mesoclimate slightly more temperate than many other areas of the Russian River Valley / Sonoma Coast. Over the years the vineyard has often been warmer during cold spikes and cooler during heat spikes than the Santa Rosa Airport, Sebastopol, or any points Windsor and North.* The natural air conditioning allows the grapes to retain their acid, but the season tends to be earlier and longer.
Combine weather with silty clay loam soil, ten different blocks of Pinot Noir on SO4 rootstock, Nunes' cultural practices, and you get unique wine grapes—rich, flavor-layered Pinot Noir that stands on its own.
~
"Terroir is deeper than soil.
It's more varied than climate.
It's a combination of people, culture, tradition and place that allows grapes to grow and express all that is involved in their nurturing."
—Jake Lorenzo
Wine Business Monthly, 2007
*Weather observations from MezoWest station interfaces, National Weather Service; NOAA; AccuWeather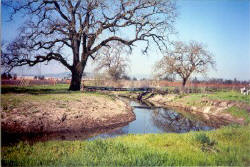 Across the Creek —
Vineyard in the background–Fall 2001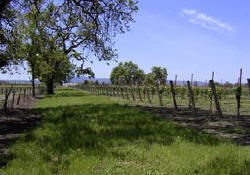 Muzio Block 667's —
Spring 2003 from Regal Block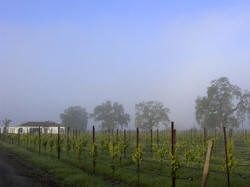 Russian River Valley— Morning fog,
Dorothy's Block. April, 2003